Courtallam Temple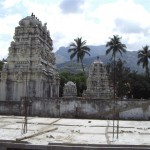 The founder of Sri Siddheswari Peetham, Sri Mouna Swami & the Peethadhipathis' who followed after established several Temples within the mutt premises. The mutt is located in an extensive area with several fruit bearing trees and other trees providing greenery & shade to the mutt. This makes the mutt a unique place for devotees to pray, meditate and enjoy the natural beauty. The devotees who visit he mutt returns back with peace and joy.
The Presiding Deity of Siddheswari Peetham is Lord Sri Raja Rajeswari known as Ambal. She is the consort of Lord Kameswara. It is believed that Ambal with her smiling face will shower benign grace to all who offer prayers to here from anywhere in the World.
Sri Sidhi Ganapathy known as Nadi Ganapathy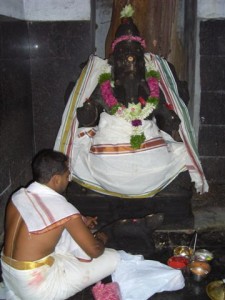 During the Kumbabishekam (opening ceremony of temple) one or two present in the audience thought why is it that Mouna Swami has to spend so much money for installing a granite idol. Swami with his yogic power identified them and directed to fetch doctors from the neighboring towns. The Doctors who came there were asked to examine the Idol. To the surprise of the Doctors and all present there, they observed pulse beat and heart beat continuously in the idol. This continued for three days. After this, the geologists were brought from Tirunelveli district to find any kind of device is installed in the Idol. The geologists who came there confirmed that there were no devices attached to the idol. After this incident it is famously known as NadiGanapathy. It is believed that whoever with unfulfilled desires brakes a coconut after offering prayers at the threshold of the temple their desires is subsequently fulfilled. This episode is published in government gazette.
Adharvana Badhrakali Prytyangara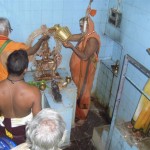 (A force to reckon) This is aunderground temple. It is believed that those who performs Abhishekam, Homam&Rahukalapooja on Tuesdays if suffering from opposition & enmity they will be relieved and the problems will come to an end.
Sri Chakra Purna Meru
Meru is made in a green stone. Meru is king of all yantras. Nine in number and one super imposed over the other. The Meru in mutt is of 1mtr x 1mtr x1mtr size, which is one of its unique in its kind in India.
Stala Vriksha Devataha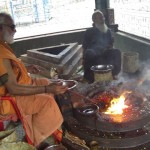 A coconut sapling sprouted from a coconut peeled out of husk placed on the kalasam (A pot of water with mango leaves on the mouth of the brass pot and coconut on the middle) to perform ritual activities where life is drawn out from Sri Raja Rajeswari Idol. This sapling was planted in the mutt premises during the renovation of the temple. Stay tuned for more details, as we will be posting details very soon.
Kapila goo (Cow)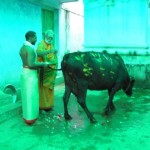 Pure and simple Black Cow will be worshipped daily by the Peethadhipathi (head of the mutt). On the day of kumbabishekam 100 cows sent to field for grazing except one black cow. It stood in the cow shed with its calf. Though untied it stood there. Around 2PM a procession of nearly thousand people carrying kalasams for kumbabishekam with music sounding with drums and pipers. When the kalasam for Ambal (Sri Raja Rajeswari) reached the black cow standing there to the astonishment of all poured nearly 2lts of milk automatically. Devotees who were present were wonder struck seeing this incident.
Navagraha Peetham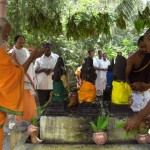 Nine principal planets ruling the entire cosmos. It is believed that those who are suffering badly due to evil transit of planets by offering prayers, Abhishekam, Homam (offering to fire) and Dhanam (Charity) to the navagrahas the individual are benefited.
Akasa Maha Meru
A meru with dimensions of 18'x18'x18' is constructed over the roof of renovated Sri Mouna Swami Samadhi Mandiram. A mechanical device is also installed at the tip of MahaMeru for doing abhishekam. People perform Meditation at this samadhi are benefited.
Pyramid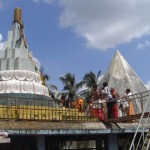 A Pyramid of 18'x18'x18' dimensions had been constructed scientifically over and above the mandiram in front of mahameru. It can accommodate about 20 people to meditate at ease. The people who visit the mutt come here and meditate.