H.H Sri Siva Chidananda Saraswathi Swamiji (Mouna Swamy) (Est. 1916 – Dec 28th, 1943)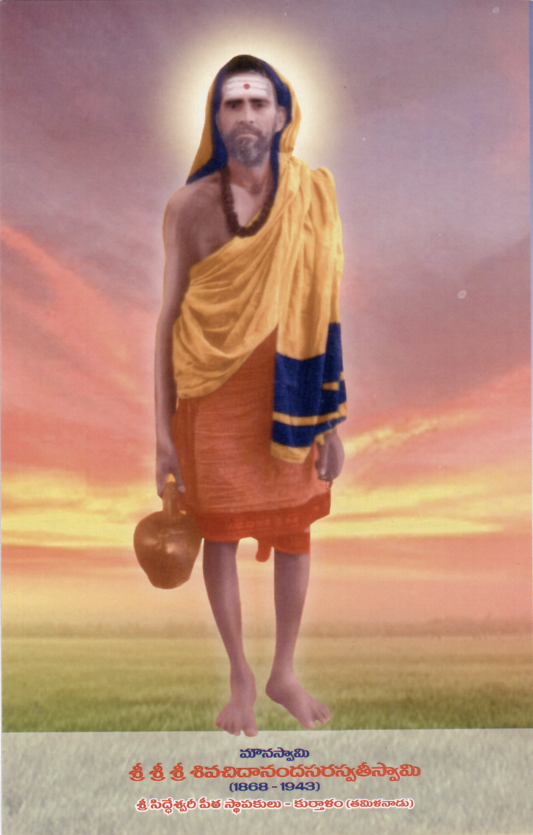 H.H Sri Sri Siva Chidananda Saraswathi Swamy, popularly known as Mouna Swamy was born as a blessed child of a pious couple Sri Athyuthuni Bapanaiah and Seethamma as their third son, in the year 1868, under Swathi constellation, in a village called Noonevaaripaalem, near Uppugundur of Guntur Mandal. He was named as Pitchaiah by his parents. Later he was adopted to another couple Sri Athyuthuni Lakshmi Narasaiah and Sundaramma who changed his name as Sivaiah and brought him up with utmost love and affection. Later Sivaiah became Sri Sivachidananda Saraswathi, who was the founder of Sri Siddheswari Peetham of Courtallam.
Sri Sivaiah is said to have been in spiritual thinking always and not of this physical world ever since his childhood. He was married to Kameswaramma, daughter of Veeramma and Papaiah, the natives of Chirala. He begot one son and two daughters. After getting marriages of his daughters, he totally immersed in devotion to God. Once he got an acquaintance with a renuncient and discussed several spiritual aspects for a long time. Gradually, his vision turned totally from outer world to inner world. After few days, at one midnight in December 1906, he left the house informing his daughter that he was urgently going on a specific purpose. Thus, he renounced all the family bondages.
Sivaiah toured north Indian parts searching for a guru who can guide him and lead him towards a yogic path. Finally, he met Sri Atchuthananda Saraswathi, a famous siddha and had an initiation from him. Here he was given sanyasaashrama by his guru Sri Atchuthananda Saraswathi who changed his name to Siva Chidananda Saraswathi. Sri Siva Chidananda Saraswathi in his extensive nationwide tour Sri Vasudevananda Saraswathi (Tembai Swamy) who explained the secrets of yoga and made him a great siddha purusha.
Sri Siva Chidananda Saraswathi later became popular as Mouna Swamy. It is imagined that there are two reasons for the austerity of his remaining in silence.
The first reason was that, when once while was in Kashmir area, he clarified some controversial aspects in a discussion going among some pundits. The pundits grew angry at him. Knowing about this his guru ordered him to be in silence all thru his life.
The second reason is that, when he was in penance in a forest in Vriddhachala, he grew angry and decided to maintain silence knowing that the angry of such a saint may cause danger to others.
In south India tour Mouna Swamy, reached Courtallam, prominently known as Trikootachala Kshetra. It is considered to be one among 54 peethams (Dharani Peetham) on earth. He was greatly attracted by a temple of Courtalla Natha. While going through paramanandam garden belonging to Sattur Zamindar, swamiji thought it to be a proper place to build an ashram and did it on 17th January 1914. There he built the temple of Dattatreya. Sri Mouna Swamy got an intuition to install the idol of goddess Sri Siddheswaridevi (Raja Rajeswari devi). Accordingly, on the auspicious day on 3-10-1916, the idol of Sri Siddheswari Devi was installed with all Vedic rituals. Thus, the founder of Siddheswari Peetham of Courtallam is great Mouna Swamy.
Mouna Swamy was a seer of many mystical and spiritual powers like Asta Maha siddhis, He could materialize anything and everything out of nothing all by himself. He has a great Astral Vision and could see and know anything. He has the power of Astral Travel. Once he took the astral bodies of his devotees to Kanyakumari festival and once the function was over, they found prasadam in their hands in Courtallam.
He could create diamonds and gold. Frequently he changed copper into gold. This was seen by people like Dr. Anne Besant. Madras governor was struck with wonder when rose garland and apples were created from air (in those days they were not available in Madras State).
Mouna Swamy exhibited many divine deeds. He cured diseases, and once he gave life to a devotee who was declared dead by doctors.
Mouna Swamy was well versed in all types of yogic practices and methods. Some of them were Jalasthambana, Vayusthambana (staying in water unperturbed and without inhalation and exhalation). During nights he was never seen sleeping. He used to perform special Yoga saadhanas like "Khanda Yoga" (separating limbs from the body and joining them together again). One day Mouna Swamy appeared at three places simultaneously. All these three incidents were confirmed authoritatively. Sri Mouna Swamy was an extraordinary saint with many mystic powers. Thousands of devotees witnessed such experiences from Swamiji at various places and were immensely benefited on spiritual front. Many devotees from other religions also used to come to Mouna Swamy, express their problems and got solutions from him.
Mouna Swamy used to go to the temple of Dandayudhapani in Sri Siddheswari Peetham frequently and immerse himself in yoga samadhi in solitude. While he was in such yoga samadhi, Mouna Swamy left his mortal body in early hours of December 28th, 1943 at 2.50 AM.
After the Mahasamadhi of founder of the peetham, a committee was formed for the organizational works of the peetham to his will. This committee handed over these responsibilities to Swamy Sri Vimalananda Bharati.
Mouna Swamy samadhi mandir was constructed and "Sri Neelakanteswara Siva lingam" was installed on his Mahasamadhi.