H.H Sri Trivikrama Ramananda Bharati Swamy (1951 – 1991) (Birth: Sep 14th 1901, Siddhi Jul 23rd 1991)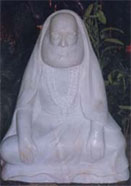 His Holiness Sri Trivikrama Ramananda Bharati Swamy, formerly known as Sri Ramakrishna Rao was born to Sri Chitturi Chinna Perraju and Smt. Venkaayamma on September 14th, 1901 with the grace of Lord Sri Rama and Sita Ammavaru of Badrachallam whom they adored for a male child. Sri Ramakrishna Rao was born in the constellation of hasta of meenalagna on suddhavidiya in badrapadamaasam. At Machilipatnam, he was taught by teachers like Sri Pingali Lakshmikantham and Sri Vishwanatha Satyanarayana in the class to which Sri Kanukollu Trivikrama Rama Rao was the class teacher. When he went to Badrachallam to have the darshan of Sri Rama and Sita Devi, he requested the lord to give him the fortune of coming back with dandakamandalas for next darshan. He thought that the main aim of his life is to be in the penance in Himalayas. Sri Kotamraju Venkat Ramaiah, one of his family friends, suggested that he meet Sri Kanukollu Trivikrama Rama Rao, who can clarify all the doubts, and took Sri Ramkrishna Rao to Sri Trivikrama Rama Rao along with him. With the teachings of his teacher, he gave up the idea of going to Himalayas for meditation. He thought that Sri Trivikrama Rama Rao (H.H Vimalananda Bharathi Swamiji) was his guru regarding spiritual matters also. This teacher/student relation continued till the end.
Sri Ramakrishna Rao obtained Sanyasa from Sri Sacchidananda Bharathi Swamiji (Sringeri parampara). He was named as Sri Trivikrama Ramananda Bharati Swamy, who succeeded Sri Siddheswari Peetham after the siddhi of HH Sri Vimalananda Bharati Swamy.
HH Sri Trivikrama Ramananda Bharati was an extempore speaker and gave speeches in Telugu, Sanskrit, English and Hindi. His holiness inspired many people all over the country with his spiritual discourses; His Holiness could remove the difficulties of many people. Once he gave the power of speech to a boy who couldn't speak and such miracles were many in his life.
Sri Bandhakavi Seetha Ramanjaneyulu came to his holiness for sanyasa deeksha. Swamiji considered this as almighty's will and gave him the deeksha, declaring him as his successor. Then Sri Bandhakavi Seetha Ramanjaneyulu was named as Sri Siva Chidananda Bharati Swamy. On January 23rd 1991, at the age of 90 HH Sri Trivikrama Ramananda Bharati Swamy attained siddhi. Sri Amutheswara lingam was installed on the holy samadhi of H.H Trivikrama Ramananda Bharathi swami.
"Sri Amrutheshwarananda Siva Lingam" was installed on his Mahasamadhi.